Anyone who knows me knows that I hate to jump on band-wagons or "go with the crowd".
I was really interested in the feathers in the hair when I first saw Steven Tyler on American Idol sporting them last year, then 'everyone' and their dog (literally) started wearing them and I decided that I wasn't going to be a part of it.
And the feather earrings have come back around into style again...at first I resisted those, but I've been seeing some 'really' gorgeous one of late. While in Estes Park last month I saw some BEAUTIFUL pairs, but they wanted $35 to $50 -'after' the sale markdown. Fuck that, I can make these myself.
So, now I am. Yes, I have joined a band-wagon, I do realize...but right now I don't care. These are fun to make and I'm enjoying myself. I also enjoying wearing them.:)
I don't have access to a huge selection of exotic feathers, but I'm doing my best with what I've got.
So here are pics. of my first two pairs of handmade feather earrings: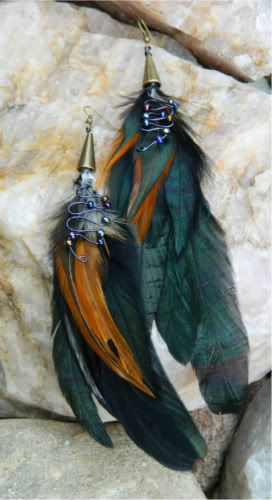 close-up of the 'jewelry':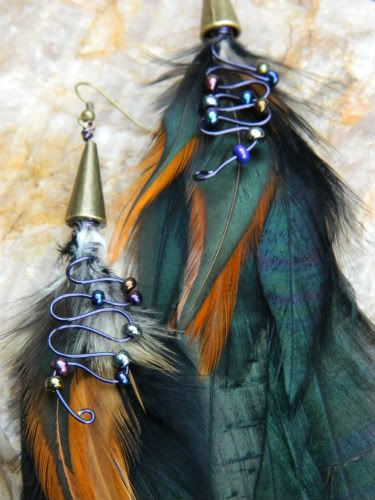 And I made these in the same night: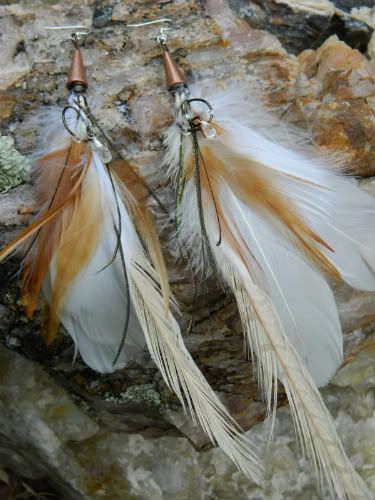 Close-up: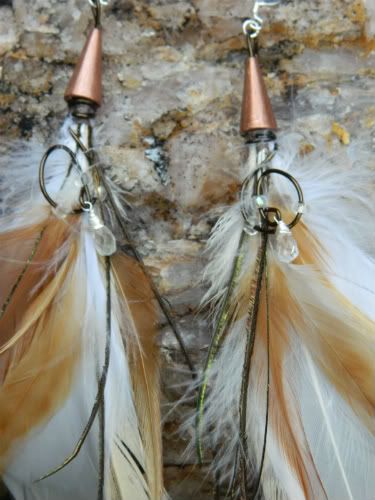 I have an idea for some red-toned earrings next. I have some dyed rooster tail and pheasant feathers sitting around along with several different shades of dyed duck feathers. Today I bought some more feathers off of ebay, and just a little while ago I stopped in a bead store downtown and picked up some more cones for the tips, and some AWESOME iridescent green beetle shell wings to add to some pairs here and there.

Even if I don't sell any, just wear them myself...I'm having a good time.:) It is a pain making them, but it's just getting the hang of it that can be 'trying'...and I've learned a few things here and there through trial and error with my first two pairs, so that helps.:)

Looking around on etsy.com at the feather earrings there, I'm inspired...wish I could find more feathers...I'm thinking of hitting up some fishing stores soon for feathers they sell for fishing lores, perhaps I could re-purpose them for my jewelry and masks.:)
I don't know if this is a good price-point or not...it seems to be about average for the size and amount of feathers + jewelry I've got, but how does $25 sound?

Thoughts?